A dedication ceremony for the new Christa Dobbs Center for Business, hosted by the LCU School of Business, honored Christa Dobbs and the generous benefactors who contributed to the refurbishment of the 22,000 square foot facility and who also provided numerous student scholarships.
"As beautiful as this building is, it's a tool for faculty and staff to educate future students," said Tracy Mack, dean of the LCU School of Business. During the dedication ceremony, Mack spoke along with President Tim Perrin and Christa Dobbs herself.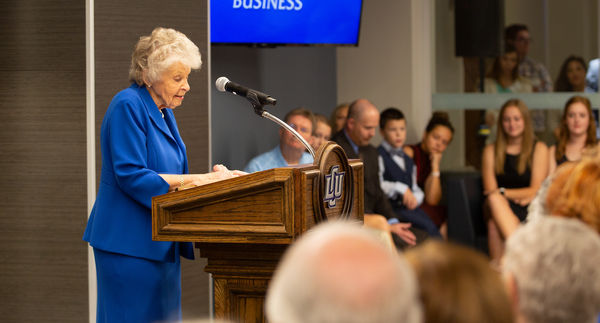 The ceremony serendipitously took place on Christa Dobbs' birthday and celebrates her lifetime of service at the university. As part of the birthday celebration, cupcakes and punch were served for the reception in the United Family Atrium following the dedication.
For more than thirty years, Dobbs served as a faculty member and then as chair of the LCU Department of Business, the precursor to the LCU the School of Business, resulted in a steady and growing enrollment of students within the program, which continues even today.
Renovation construction on The Christa Dobbs Center for Business was completed earlier this fall and was open for classes on Aug. 20. Also on hand for the dedication celebration were numerous former faculty and staff members who were associated with the School of Business through the years.
The LCU School of Business is the largest undergraduate program of the University, offering academic programs in Accounting, Finance, Economics, Business Administration, Information Systems, and Digital Media Arts. Students who study in these programs excel academically and upon graduation are values-centered leaders in organizations not only in this region, but throughout the United States.