The Lady Chaps' trip to the Elite Eight Tournament has been exciting, despite the restrictions. The NCAA covers most of the cost for the participating teams, including airfare, hotel accommodations, and food for the team. One thing that everyone on the team—coaches included—are determined to do is soak in every moment of the journey.
"We left on Saturday, March 20, on a 6:15 flight, and we left the gym about 4:45 in the morning before we got on the plane to Dallas," explained senior guard Madelyn Turner. "Our coaches, though, actually got left—they missed the flight from Lubbock to Dallas," she added, laughing. "We had a long layover before we caught the second leg to Ohio, and our coaches told us that they wouldn't be able to make it until late that night, meaning we'd have to travel alone—but while we were waiting, a bit anxiously, they showed up. They tricked us!" The team was able to travel on the second leg of the trip all together, landing in Ohio that afternoon with plenty of time to settle in at the hotel.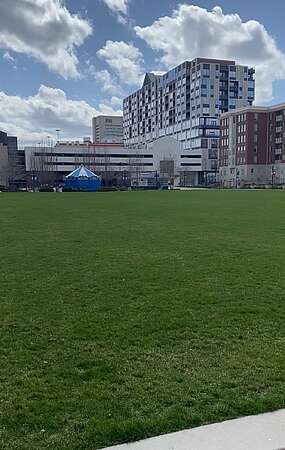 "We're staying in the Sheraton Hotel in downtown Columbus, which is really cool," shared senior forward Juliana Robertson. "Our whole team actually gets an entire floor to ourselves, and each of us have our own room, as a part of the COVID measures. We've been able to go to Starbucks in the lobby each morning, and every meal is brought to the hotel for us."
The assistant coaches order takeout from different restaurants, which then gets delivered to the hotel. "Coach Gomez has a large balcony out from his room with lots of space, so we get to eat each meal outside. The weather has been beautiful, and it's been really awesome getting to still eat together like that."
Senior guard Laynee Burr shared some of the light sightseeing the group was able to do before entering "the Bubble." "Our hotel is really close to some downtown restaurants and coffee shops, and we've been able to walk around a lot—it gives off some 'New York vibes,'" she said. "There was a nice market with lots of vendors and shops, and we got some really good ice cream there. There's also a huge park right outside of our hotel, and we've played some hacky-sack and watched some March Madness before we went into 'The Bubble.'"
Aside from covering travel and lodging expenses, the NCAA has made sure the team has felt welcomed in Columbus. "When we got to the gym, we got backpacks, a drawstring bag, bucket hats, t-shirts, some stickers, a face mask… lots of stuff," shared freshman Cambrie Heiman. "They also gave us tons of snacks in the locker room—chips, pretzels, bananas, Dasani water, Powerade—it's been really nice."
One stop in particular was about more than sightseeing; the team also made a trip to a place that is now part of Lady Chap legacy. "When we first got here, we got to and go practice at Ohio Dominican, where we actually played the national championship game in 2019—it was really cool to be back there," shared Burr. Several members of this current squad were also on the last championship team, and that stop created a special moment for the entire team as they prepared to play in the games of the 2021 Elite Eight tournament.