Most people would never expect the word to describe their first visit to New York City to be "courageous," but thanks to her medical experience and her dedication to helping others, the term perfectly fits LCU alumna and veteran nurse Nici Rogers' decision to join the frontline heroes fighting in the COVID-19 epidemic.
During the onset of the COVID-19 epidemic in the United States, Nici watched along with her coworkers as the number of cases in Lubbock began to rise. As discussions began to circulate about the local response, she was informed that, because of her experience in the ICU and emergency room, she would likely be working directly with Lubbock's COVID-19 patients.
Even as the number of cases in the Lubbock area began to climb, however, they were nothing compared to the staggering situation unfolding in New York, the state with the highest number of confirmed cases in the country. New York state has nearly crested 200,000 confirmed cases—more than triple that of the next highest, New Jersey—and the strain on the healthcare system in the state is immense. For weeks, many staffing agencies have been calling nurses from all over the country for aid, using incentives like unusually high pay rates to bring additional help to the local hospitals to deal with the overwhelming work conditions for those on the front lines. And when word of the situation in the northeast—and the ease with which she could help—reached Nici, she knew that she could make a real difference.
Kelli Rogers, Nici's mother and LCU employee, recalled Nici telling her that, if she was going to soon be fighting the virus in her hometown, then she could go work for a month in the real national epicenter of the pandemic and gain valuable experience to bring home to help treat her neighbors. "She actually has coworkers who want to travel and help, as well," Kelli mentioned. Many of those who would go, however, have families or other situations that would make it incredibly difficult to make such a monumental commitment.
"I'm the perfect person to go help these people," Nici explained. "I'm not married, I don't have any kids—it's a perfect opportunity."
Kelli recalled initially being uncomfortable with the idea. "It was the same thought that went through my head when my son came and told me that he was seriously considering training to become a Navy Seal," she said. "'No—that's great, but it's for someone else's kid.'" But as she asked Nici questions and brought up concerns, her daughter replied calmly that, not only was she aware of those concerns, she felt them too—but she felt called to go, to care for people. That certainty, according to Kelli, was powerful.
"Nici has always been one who comes up with big ideas," she emphasized. "And this one—she didn't let go. She told me about the trip on Sunday, and left the very next day."
Nici was scheduled to leave for New York on the morning of Monday, April 6—but the flight she was supposed to take was cancelled due to low passenger numbers. In order to make it to her destination, Nici instead was forced to drive to Amarillo, where she then was able to board a flight later that same day, before finally landing in New York that night. Unsure of whether she would be expected to be immediately on-call upon landing, she arrived dressed and ready in her scrubs—and understandably nervous.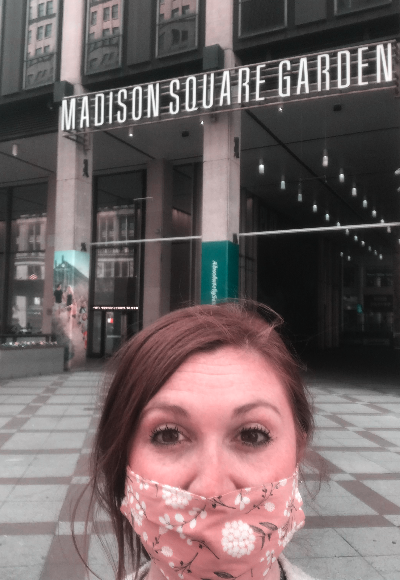 However, Kelli shared that the reception Nici received upon arriving in New York City has been full of support. When she was informed that she wouldn't start her work until the following morning, Nici decided that her first meal in the Big Apple be some New York pizza. "She walked into this pizza place, still in her scrubs, and the man behind the counter just started clapping and exclaimed, 'A nurse! A nurse!' The other workers came out and clapped for her, asking her about where she was from, and brought her dinner for free—there's just so much gratitude from the people there, especially for those who are coming from all over the country to help."
Before she was allowed to actually start treating patients, she went through additional specialized training to ensure she was ready to combat COVID-19 for two days after she arrived. Her first actual shift came Thursday—before which she texted her family, "I'd be lying if I said I wasn't nervous. But knowing this is where God wants me to be also gives me peace."
Before it was even over, she had again texted her mother, alarmed that the healthcare workers there didn't even have enough protective masks or gowns for their shifts. Kelli began to reach out through social media and other avenues asking for donations. "I had so many people respond," she emphasized. Old classmates from across the country began mailing their unused masks directly to Nici—the support was overwhelming. "I spent hours that Saturday just driving around town, picking up masks, face shields, hand sanitizer, and Clorox wipes," she added.
Nici has been a nurse for over a decade, with years of experience in the emergency room, medical ICU, and even in University Medical Center's burn unit in Lubbock.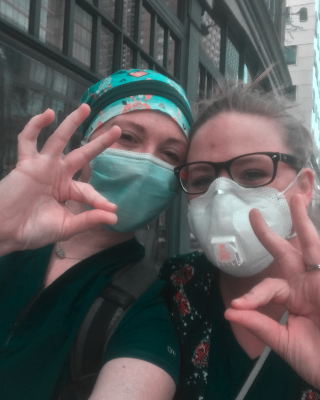 "When she chose nursing as a profession, I never dreamed it would be a dangerous occupation," Kelli shared, before explaining this isn't the first time Nici has found herself in intense situations through the course of her job—though, according to her, those experiences have made her perfect for this situation.
"When she was living in Temple working the ER at Baylor Scott and White, she was on the clock when an individual entered the ER and began holding the nurses hostage until they brought him specific drugs he was addicted to," Kelli shared. "Nici found herself ducking behind doors, trying to help escort patients out of the lobby and the building," she recalled. The tense situation resulted in the SWAT team's intervention, and the unfortunate death of the perpetrator.
"Nici is the perfect person for this job," Kelli explained. "She was in the Greenlawn bus accident and saw some pretty gruesome things there—and spent a lot of time in ICU after that. Because of these tough situations, she has a heart to really comfort people—but she also has that perfect balance of redhead bossiness, too."
Even through the difficult times, however, there have been powerful bright spots. Kelli shared that, on Easter Sunday, she was able to FaceTime with Nici. "After wishing me Happy Easter, she wanted to share with me that she was able to help a patient who was on a ventilator to be able to FaceTime her family, since they're not allowed to see any visitors." Nici told her, "It was really special… that makes all the difference." The patient would write a message, and then Nici would help her hold up the sign so that the message would come straight from her.
"She's doing exactly what she was meant to do," Kelli said. "Anybody can do this job, who has those qualities—but combining them with her heart for Jesus, that's what makes the difference."
---
For more coverage of this story, check out <LINK www.kcbd.com/2020/04/16/lubbock-nurse-talks-about-volunteering-nyc-during-covid-/ _blank>Nici's interview</link> with local news station KCBD.