Michelle Phillips, an LCU alumna and UMC-Physicians' 2020 Advanced Practice Provider of the Year, was one of the first called upon when the COVID-19 pandemic reached the South Plains—bringing both her medical expertise and compassionate service to her local community.
Phillips, a Family Nursing Practitioner, was working in the clinic in the South Plains Mall when the pandemic hit, and business began to slow drastically. "They moved us—the other provider and me—out to the COVID clinic," she explained. "There were four of us who sort of 'lost' our clinics, because we were needed elsewhere."
The change was abrupt and full of uncertainty. "It was nerve-wracking for a bit—we didn't really know what was going on," she shared. "Our corporate staff threw that clinic together in six days, so there was a lot of uncertainty. We knew there was a need in the community, but we didn't know exactly what it looked like and what our role was going to be. We were getting a lot of people coming through not really knowing what was going on."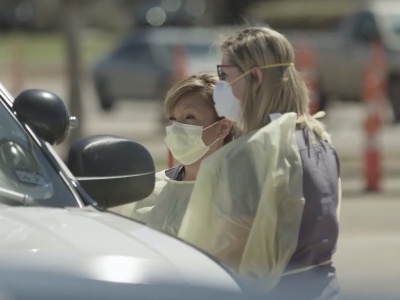 Initially, the clinic was testing only people who were symptomatic—with the fever, shortness of breath, and cough. Over the course of the pandemic, however, a lot of things changed. "At first, they were going to have us in a trailer, and bring people in there for us to screen them, but it was a pretty quick decision to change it to the drive-thru format."
Safety was absolutely a concern—and one that Phillips had to weigh with her family, even when weighing whether she'd be able to live with them. "When UMC Physicians came to us and explained what they were thinking about doing, I had to go home and think long and hard about it," she recalled. "I wasn't necessarily worried about myself, but I had to think about my son, and my husband, who's a paramedic. How was this going to affect our family? In the end, though, I'm all about our community, and I just knew that this was where I was supposed to be."
Even with that confidence, the Phillips family had to adapt to some drastic precautions. "It was one of those things where when I would pull into the garage, we had to make sure everybody was in their rooms," she explained. "I'd take all of my work clothes off and put them into a bag, and immediately wash it all with antibacterial soap, and then shower—every single day. Lysol in the car, Clorox wipes in the car, hand sanitizer—I didn't let my son go anywhere in my car, just to be safe. We took every precaution we could."
Even as she wrestled with the physical implications of COVID-19, Phillips found her work was just as focused on her patient's mental and spiritual needs. "What we found was that a lot of the community just needed to hear from a provider, 'It's going to be okay; you're going to be okay,'" she explained. "Because with the media, everyone hears what's going on in New York—and of course west Texas is way different than New York. We're totally different, and a lot of people just didn't understand that."
Those were the moments where Phillips said she most appreciated her education at LCU. "LCU absolutely prepared me for that," she said emphatically. "I was not raised in a Christian home, even though my parents were themselves alumni—but LCU really helped me find my own faith. So, the nurturing part of this, telling my patients that God has got this—that really is a huge part of my life."
Outside of the clinic itself, Phillips was among those who were occasionally called to assist with local nursing homes, which turned out to be its own challenge.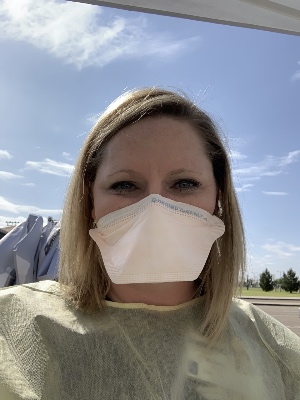 "One of the first places we went into was a big learning curve for us." She explained, "That first time, we were set up in an enclosed room, instead of an open area, which we quickly realized was not the best way to do that." And even though they started out full-force with their protective gear, there were changes in that regard, as well. "When they learned how long the virus stays in your hair follicles, for instance, we started wearing hair protection, too," she explained. "Or when we went into nursing homes, we realized we needed protection on our feet, as well. As it went on, and we learned more about it, we could be more aware of what protections we needed ourselves."
One of the hardest moments for Philips during the pandemic came when patients she had worked with personally began dying from the virus, especially when they had been asymptomatic—meaning they hadn't initially displayed the symptoms of the virus when examined. "When those numbers started coming in, it was hard to get over. That was the day I felt defeated," she shared. "It was the darkest day for me—but my husband picked me back up, reminding me that I was doing this for a reason, that I was still making a difference."
For every dark moment, however, Phillips shared that there were beacons of hope, as well—often in the form of community support.
"The community has been so grateful," she shared. "Obviously, we felt that from our patients, but even to other organizations who have been feeding us—I swear, they've made us all fifteen or twenty pounds heavier, with all of the food and drinks we've been brought," she added with a laugh. From friends who work with cosmetics putting together care packages for nurses, to restaurants bringing free food to the clinic, Phillips shared that she and her coworkers absolutely felt warmth from the local community—at times literally.
"When we first started out, it was really cold that first week, and we had a lot of people call and bring space heaters and hand warmers. Now that it's warmer, the dermatology department at Tech brought us sunscreen—the community has helped us in so many ways."
Phillips, a third-generation nurse, first graduated from the LCU with a Bachelor of Nursing in 2011, and then from the Family Nurse Practitioner Program in 2016, as a part of the program's first graduating class. Her nursing career has spanned many areas within the medical profession, and several hospitals across the south plains—and she was even recognized by UMC-Physicians as the Advanced Practice Provider of the Year in January.
"It's a calling," she shared emphatically, "It's a passion—and it's our life."