Lubbock Christian University director of athletics Scott Larson announced at a press conference Tuesday that the university plans to add intercollegiate men's and women's tennis for the Fall of 2022, which will place LCU with 17 varsity programs competing in the NCAA Division II Lone Star Conference.
The initial timeline of the addition of the two programs, includes hiring a head coach by the summer of 2021 and securing an on-site facility as the official home court of the program. An on-site facility is not only important for a home court for the student-athletes, but also to serve for camps, community events and as a host site for amateur (high school and junior college) tournaments to bring additional revenue to the Lubbock community. Last season, nine Lone Star Conference institutions supported men's tennis and 12 supported women's tennis.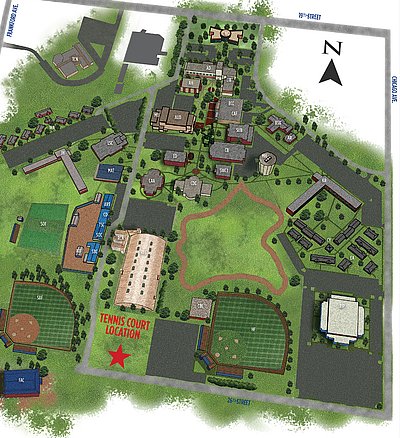 "We are excited to bring back men's and women's tennis to LCU and look forward to expanding our athletic portfolio in Fall 2022," said Larson. "These two programs will fit perfectly, not only in Lubbock and the LCU campus community, but within the Lone Star Conference as well."
Once the first serve is complete, it will mark tennis' return to the Lubbock Christian University community. Under the leadership and direction of Lubbock Christian pioneer Hugh Rhodes, tennis made its debut on campus in the early years of then-Lubbock Christian College (LCC), winning a NJCAA Team National Championship in 1960 in Rochester, Minn. LCU Hall of Honor member Dan Chrane claimed the NJCAA singles title at the national event that season. Emilie Burrer Foster joins Chrane as a tennis member of LCU's Hall of Honor. She was a two-time national doubles semifinalist at LCC and a national champion at Trinity (Texas) before a professional career led her to compete in the 1969 US Open (doubles). Burrer Foster went on to coach at Texas Tech for eight years and at Trinity, where she was a 1983 NCAA Division I Coach of the Year. Tennis eventually phased out as LCC transitioned from a two-year to four-year school and joined the NAIA in 1972. Tennis made its return and its first season as a four-year school came in 1975 (first full season was during the 1976-77 school term with financial aid officer Dangie Tabor heading the program). Larry Rogers and Dave Simpson also served time coaching the tennis program until its final season in 1981-82. They competed in NAIA District 8 play and as Lubbock Christian was members of the Texoma Conference and the TIAA, with Lubbock Racquet Club, Lubbock Municipal Tennis Courts and Oza Walker Tennis Court serving as home court through the years. Current LCU women's basketball assistant coach Vic Self is a former LCC tennis student-athlete.
In attendance at LCU's tennis announcement was Jerry Franklin and former Texas Tech tennis coach Tim Siegel. Franklin was LCC tennis student-athlete in the 1960s and went into high school coaching before he was inducted into the Texas Tennis Coaches Hall of Fame in 1987. Siegel was an All-American at Arkansas and played professionally before serving as a head coach at SMU (1990-91) and Texas Tech (1997-2015). He is a vocal ambassador for tennis across the South Plains and serves as the executive director of Team Luke and Hope4Minds, a 501(c)(3) nonprofit organization supporting Texas families with children who have suffered an acquired brain injury.
LCU vice president of university advancement, Raymond Richardson, has been instrumental on the facility project, assisting with Franklin and consulting with Siegel. Richardson encourages individuals and corporations/businesses seeking partnership with the facility project to contact him.