The 11th Annual Writing Carnival, featuring The Chronicles of Narnia by C.S. Lewis, was important for LCU students, faculty, and staff this year; it ushered in something that was both familiar and exciting, creating some of the normal rhythms that mark the fall calendar at LCU each year and giving everyone a chance to participate in one of LCU's first major community events.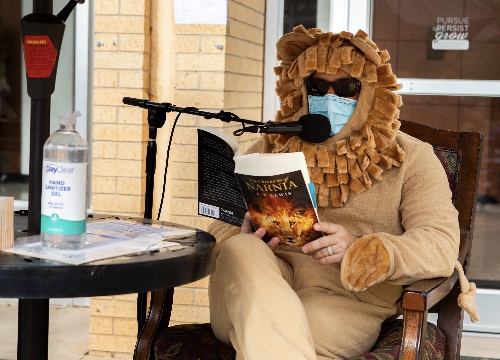 Safety and concern for others were priorities of this year's event planners—social distancing and mask policies were in effect, and this year, students used QR codes to enter events in order to keep people from gathering around event tables—but neither masks nor space impacted the joyful spirit of everyone who participated.
On Monday morning, the carnival began with its traditional chapel presentation by Dr. Kenneth Hawley and the kick-off of the 24-hour reading marathon, which takes place on the steps of the McDonald Moody auditorium. Dr. Jesse Long, who is the traditional first reader each year, opened the event by reading the first page of series.
Reader's voices echoed throughout the campus all Monday afternoon, and that evening, students, staff, and faculty stepped through an elaborate re-creation of the snowy entrance to the world of Narnia that adorned the center of the mall area to view "The Lion, the Witch, and the Wardrobe" inside the McDonald Moody auditorium. During intermission, movie-goers enjoyed hot chocolate and smores and other delicious treats and had the opportunity to take pictures in costumes in front of several photo staging areas. Terri Warren and the MarCom team brought Narnia to life in a beautiful way, complete with Christmas trees and snow-covered rocks and other delightful details. At midnight, President Scott McDowell filled the midnight reading slot to a captivated audience, who rewarded his participation with applause.
As the 24-hour reading event concluded on Tuesday, the Writing Carnival itself opened with a flourish. Students, faculty, and staff enjoyed amazing street tacos, buttered corn, crispy churros, and other carnival treats while entering writing contests ranging from creating 6-word-stories to caption contests, Narnia trivia, an archery tournament, and much more.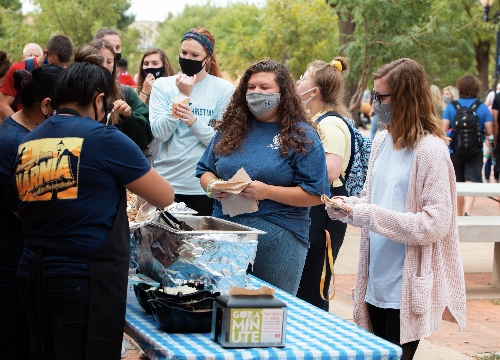 "The writing carnival definitely lived up to the hype!" shared Dr. McDowell, who experienced the event for the first time this year, his inaugural year as LCU's president. "What a great event."
The writing carnival was first inspired by Dr. Ronna Privett and Dr. Jana Anderson, both LCU professors in the Department of Humanities, who attended a conference that suggested creative ways to get students involved in writing.
Anderson has spearheaded these events over the last decade and believes that events like this, which have both an academic and community focus, are important to university life and highlight the collaborative spirit that is a hallmark of LCU.
"We believe in teamwork, and the partnerships we have with Dining Services, Student Life, Chap Radio, the Provost, Facilities, and MarCom are one of the best parts of this event." She also noted, "Due to the challenges and losses of this past year, we needed the Writing Carnival and the joy and community it provides. We also needed Narnia, which we returned to for the third time, and its clear message: even in the darkest of days, all is not lost. No pain is wasted. Love has the final word."