During the annual Alumni Awards Luncheon on Friday of Homecoming Weekend, Lubbock Christian University honored eight distinguished alumni in recognition of their outstanding success and service in their communities. Including three couples this year, the awardees continue to make a profound impact on the world around them, both in professional success and in service to the Kingdom of God.
---
Chad ('08) & Jaime ('15) Wheeler

Young Alumnus of the Year in recognition of significant professional achievements – under 40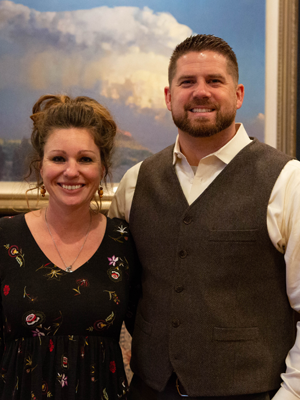 Chad Wheeler graduated from LCU with a Bachelor of Arts in Biblical Text in 2008. Jaime (Rucker) Wheeler completed her Master of Science of Social Work degree in 2015 as part of a cooperative program between LCU and the University of Texas at Arlington. They are passionate and experienced in developing community-based solutions to poverty and homelessness. Involved with Open Door (formerly Carpenter's Church) since 2007, Chad currently serves as executive director, and Jaime serves as the director of survivor housing. Their efforts have been recognized by the Lubbock Chamber of Commerce, as well as the Lubbock Chamber of the National Association of Social Workers, Lubbock Crimes Victims Coalition, Covenant Health System, the city of Lubbock, and the Texas Homelessness Network.
Under their leadership, Open Door developed Lubbock's first and only Permanent Supportive Housing project serving chronically homeless adults with disabilities. As of January 2018, they provide Supportive Housing to 40 people, ending over 400 collective years of homelessness, amounting to more than $1,000,000 annually in taxpayer savings. Open Door has also developed the first and only Transitional Housing program on the South Plains that serves adult survivors of sex trafficking and their children.
Formerly the president of the South Plains Homeless Consortium from 2016-2018, Chad currently serves on the board of the decision-making body that determines the policy direction for 215 Texas Counties regarding homeless services. He also advises the City Council on a variety of human service and development projects that impact the City of Lubbock.
Jaime is recognized as a leader and an advocate for adult survivors of sex trafficking in West Texas. She has served on the Regional Sex Trafficking Allied Response Team since 2011 and served as Lubbock's first dedicated Sex Trafficking Advocate for Voice of Hope (formerly the Lubbock Rape Crisis Center) from 2015-2018. She also co-founded the Human Rescue Coalition and published a workbook that is used in trafficking programs throughout the U.S., including Rape Crisis Centers, law enforcement agencies, trafficking housing programs, and a variety of service providers and individuals.
They currently serve as foster parents for three children.
---
Charles Maupin, D.D.S. ('03)

Gary & Pat Estep Award in recognition of outstanding contributions to the Sciences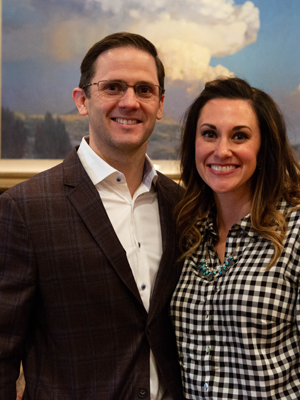 Dr. Charles Maupin graduated from LCU with a Bachelor of Science in Biology in 2003. He received his Doctor of Dental Surgery at Baylor College of Dentistry in 2007. He attended the University of California, Los Angeles, where he served as chief resident and received his endodontic specialty. Charles continues to be a part-time faculty member at UCLA. He is a Diplomat of the American Board of Endodontics, making him the only Board-Certified Endodontist in Lubbock. He is an active member of the American Association of Endodontists, the American Dental Association, the Texas Dental Association, and the South Plains District Dental Society. Charles is a founding member of the International Academy of Endodontics, is on the forefront in revolutionizing endodontics, and is a volunteer with Texas Mission of Mercy.
Charles is in demand as a speaker in the field of endodontics. He has already given several lectures in 2019 alone, at the U2 Endodontic Study Club, American Academy of Restorative Dentistry, and the Southern California Association of Endodontics. Past speaking engagements also include the American Association of Endodontics Annual Meeting (2016, 2017, 2018), the International Academy of Endodontics (2015, 2018), the New Jersey Endodontic Association (2018), and the Arizona Endodontic Association (2018).
Charles credits his LCU professors, Drs. Baldridge, Martin, Harman, Rogers, Mason, Marshall, and Estep, with his preparation for dental school and for teaching him the value of hard work. He believes that he would not be where he is today without each, and every one of them.
Charles and his wife Stephanie (Aksamit '03) have three children: Lucy (8), Lily (5), and Jett (5).
---
Randy & Janice Schow ('77)

K. C. Moser Award in recognition of excellence and outstanding service to the Kingdom of God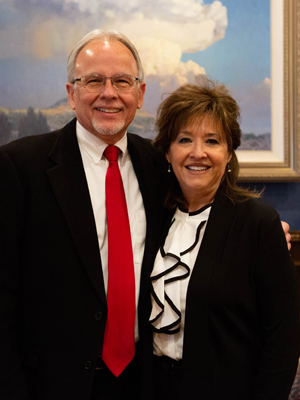 Randy and Janice Schow transferred into LCU as juniors and newlyweds in 1975. They worked to put each other through school and graduated together in 1977. Randy received a Bachelor of Science degree in Psychology, and Janice graduated Summa Cum Laude with a Bachelor of Science in Education. Randy completed a Master of Science in Counseling Psychology from Northeastern State University in Tahlequah, OK, and is a Licensed Professional Counselor (LPC), a National Board-Certified Counselor (NBCC), and has Forensic Specialty and Criminal Justice Specialist certifications. Janice taught at Lubbock Christian Schools, Green Country, and Wright Christian Academy in Tulsa, OK. She received her Master of Arts in Curriculum and Instruction from Colorado Christian University.
Randy worked at Turley Children's Home in Tulsa, OK before accepting the role of Executive Director of Mountain States Children's Home (MSCH) in Longmont, CO in 1992. He implemented children and family services, provided staff support and training, developed fundraising strategies, and cultivated relations and support with more than 500 volunteers. He travels across 14 states and speaks at or meets with approximately 150 churches or church groups each year to promote the home. With the work of God's other dedicated servants over the years, MSCH is financially stable and continues to bless countless children and families.
Janice started a school on the campus of MSCH in 1998 to help junior high and high school students who have struggled academically, behaviorally, emotionally, and spiritually. Through her efforts, testing has consistently shown that students gain nearly four years of academic achievement each year at the school. MSCH students have had a 100% graduation rate for the past 14 years. Janice was recognized for her significant contribution to the overall welfare of children and adolescents and families by the Colorado Association of Family and Children's Agencies.
Randy is an elder at the Longmont Church of Christ where he and Janice have been active members for 26 years. The Schows have three children, Denver and Kacee Schow of Edmond, OK, Abby and Nick Mears and Jordan and Sarah Schow of Longmont, CO. They are blessed with three grandchildren and one to arrive any day! They also have four chosen children who have lived with them and consider them family.
---
Randy Sellers ('73)

F. W. Mattox Award (posthumously) in recognition of excellence and outstanding service to the University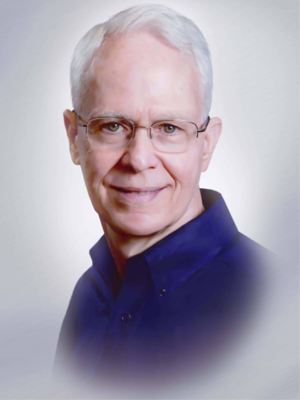 Randy Sellers graduated with an Associate of Applied Arts degree from LCU before completing a Bachelor of Science in Psychology degree from Abilene Christian University. He later received Master of Science degrees from Golden Gate University and another Master of Science degree from Troy University. Randy served in the United States Air Force from 1974 to 1982 and graduated from his flight training class in 1980 where he received the Commanders Trophy for graduating top of his class. As a captain, his first assignment was as an F-15 fighter pilot. He was a defense contractor and flight instructor for fifteen years at Reese Air Force Base until the base closed.
Randy started his successful 21-year career with LCU in 1996. He would tell you that he was minding his own business as associate dean of students when Dr. Jones, LCU's fifth president, approached him about leaving student services to lead enrollment management. Randy's leadership resulted in a period of significant enrollment growth for the university. It was not long until Dr. Jones asked Randy also to lead the critical area of institutional effectiveness. Seven years later, Randy transitioned from enrollment management to focus on institutional effectiveness in preparation for the 2008 accreditation reaffirmation review. Student record management also moved to his area of responsibility three years later. Randy managed the registrar's office, led data production and analysis, coordinated all reaccreditation efforts, and served as a staff liaison to the LCU Board of Trustees. Under Randy's direction, LCU achieved two accreditation reaffirmations with no significant findings and no action required by the university. Few understand how rarely that happens in higher education.
Our dear friend and colleague, Randy Sellers, passed from this life on October 20, 2018, just a few months after completion of LCU's 2018 reaffirmation review by the Southern Association of Colleges and Schools Commission on Colleges. In December the university received official word of its reaffirmation, a fitting tribute to the leadership and devotion of Randy Sellers. Randy's family accepted this award on his behalf.
Randy was married to Jean (Fowler) Sellers ('12) for 46 years. They are the parents of Jennifer (Sellers) Thomas, who received her BS in Interdisciplinary Studies in 1996, and a Master of Education from LCU in 2000, and Justin Sellers, who graduated in 2001 with a BA in Business/Marketing. Randy was extremely proud of his children for attending LCU and of all their accomplishments.
---
Sherry ('92) & Brett ('88) Cate

Distinguished Alumnus of the Year in recognition of significant professional and personal achievement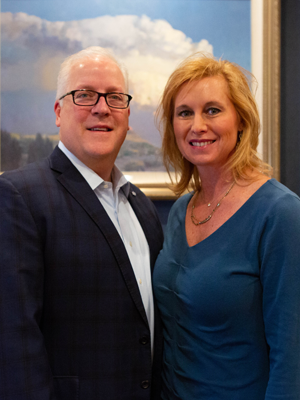 Sherry & Brett Cate both received Bachelor of Science in Business Administration degrees from LCU – Brett in 1988 and Sherry in 1992. Since then, Sherry & Brett have been working and serving together in the Lubbock community.
Over the past 20 years, Brett has served in many different roles with Tyler Technologies, the largest software company in the United States that offers integrated software and technology solutions to public sector organizations such as states, cities, counties, and school districts. He first served as a solutions consultant, then as director of sales, chief operating officer, and president of the Local Government Division. In the chief sales officer role since 2015, Brett is responsible for the overall direction and coordination of Tyler's strategic business development activities which includes oversight of more than 350 sellers and sales support, identification, assessment and integration of strategic acquisitions, and design and implementation of internal standards.
Sherry and Brett are co-owners of several companies in Lubbock including BBC Partnership LLC, Premier Sportsplex LLC, Apex LLC, and Ultimate Cheer Lubbock (UCL). In its fifth year of operation, UCL has become a world known cheer and tumbling gym, winning several competitions, which include an NCA championship, Summit championship, and Summit Grand championship. They have about 170 athletes, including 130 who are part of an all-star team. Sherry has been a key resource for LCU's new competitive cheer squad, and Ultimate Cheer serves as the official gym of the LCU Cheerleading program.
Sherry has also served on the board of directors of the Junior League of Lubbock and the National Charity League of Lubbock. Brett currently serves on the board of directors of Jochebed's Hope, an organization focused on providing access to housing, food, medical care, clothing, education, and vocational training for the children of Indonesia. He is an advisory board member of the LCU School of Business and is also on the board of directors of Lubbock Economic Development Alliance/Market Lubbock, and People's Bank.
Sherry & Brett reside in Lubbock and have two children, Jordan and Tucker. Jordan owns several dance studies in Durango and Cortez, CO, and lives with her husband Lukas DeBolt in Durango, and Tucker is a junior in college, majoring in nursing.