Lubbock Christian University (LCU) hosted its tenth annual Big Blue Christmas celebration on Tuesday featuring Dr. Suess's Grinch and Who-ville.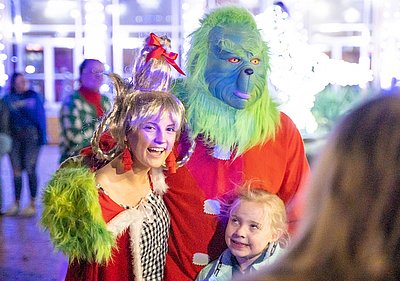 The family-friendly event covered LCU's mall area and surrounding buildings in lights, Christmas and character decorations, and music from the university's various instrumental and vocal ensembles. Guests enjoyed a plethora of activities ranging from pictures with the Grinch and Santa, cookie decorating, making s'mores over open fire pits, and games to enjoying an elaborate Christmas feast in the LCU cafeteria or enjoying a Philly-cheesesteak from a local food truck.
Faculty and students from LCU's School of Education also hosted a story-time in the Student Union Building, complete with popcorn for the audience. A local hot air balloon was also on-campus for the event, but unfortunately weather conditions prevented a lift off.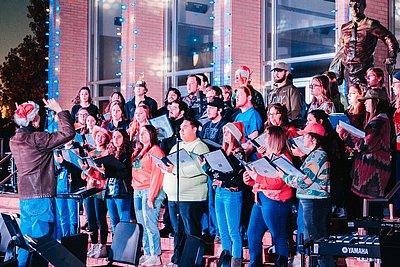 "As a Christian university, central to our mission is an acknowledgement that the birth of Jesus changed the world forever," stated Warren McNeill, Vice President of Public Relations and Marketing. "LCU's family-friendly Big Blue Christmas has become a popular tradition with our young alumni families, as well as with other families in the community, to kick-off the Christmas season."
Thousands of guests from across the Lubbock community shared in the evening filled with Christmas fun to celebrate the birth of Christ. After performances by LCU musical ensembles, the caroling, the games, and children's Christmas-themed crafts, the evening culminated in a brief welcome and Christmas greeting from LCU President Dr. Scott McDowell, giveaways sponsored by various LCU community partners, and the annual Lighting of the Chap ceremony.