LCU hosted its seventh annual Big Blue Christmas on Tuesday night, styled the "Elf-Stravaganza," welcoming over 1,500 guests to campus to share in the holiday celebration.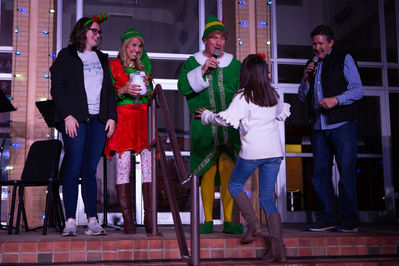 The event was themed after the 2003 movie "Elf," starring Will Farrell as Buddy the Elf. Professor of Youth and Family Ministry and Farrell-lookalike Dr. David Fraze dressed up as Buddy and posed for photos across campus throughout the event. Santa Clause also appeared for photo opportunities in the Christa Dobbs Center for Business, and other areas of campus were decorated as various holiday- and Elf-themed locations—each offering crafts, snacks, games, and other activities.
Throughout the evening, LCU musical ensembles performed seasonal tunes and Christmas carols, including joint classics by the Praise Choir and Symphonic Band, "Holiday Favorites." Other performing groups included the Jazz Band, Chamber Singers, Best Friends, and Forte.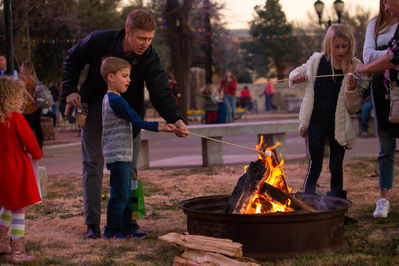 "It was so much fun seeing the faces of youngsters light up when they saw 'Buddy the Elf' come around the corner, and when they proudly completed one of the Christmas-season crafts that were provided for them as activities," said Warren McNeill, Vice President of Public Relations and Marketing. "Central to our identity as a university is that we are distinctly Christian – it's the lens through which we do everything. We celebrate the birth of Jesus and what that means to the world, and by hosting a community-wide event on campus that highlights the Christmas season, we hope to remind people about the Light that came into the world over 2000 years ago."
At the end of his brief welcome, Provost and Presidential Interim Leadership Team member Dr. Foy Mills invited guests to count down with him for the grand lighting. The celebration concluded with the traditional "Lighting of the Chap" and many other buildings on the mall area.