As Lubbock Christian University (LCU) hosted its winter commencement ceremonies this weekend, former Coach Larry Hays returned to campus to address the graduating students and their families at the undergraduate ceremony. LCU Professor Dr. Russell Dabbs likewise keynoted the graduate ceremony.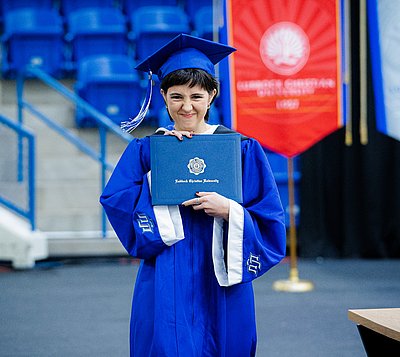 Larry Hays served LCU in a variety of roles over the course of 18 years but is best known for his time leading LCU's baseball team to many victories, including a national championship in 1983. Before his days as the head baseball coach, he taught history and political science, and he served as dean of men and intramural director. He was even appointed LCU President for a single day following the 1983 championship. After a time away from the university, Coach Hays led the LCU Lady Chap softball team to a 54-7 record with numerous program honors in 2010.
Hays also spent 22 of his 38 coaching years at Texas Tech, where he amassed over 1500 wins. Coach Hays continues to add to his impressive resume as he was named the ROMAC Coach of the Year for softball this year after his fourth season coaching the Colorado Christian University Cougars. Hays has turned the CCU program into a conference powerhouse, garnering national recognition.
Hays has received numerous personal awards including Southwest Conference Baseball Coach of the Year and Big 12 Baseball Coach of the Year. He was also inducted into the NAIA Hall of Fame, the Texas Baseball Hall of Fame, and the National College Baseball Hall of Fame. Hays has also served on the LCU Board of Trustees since 2003.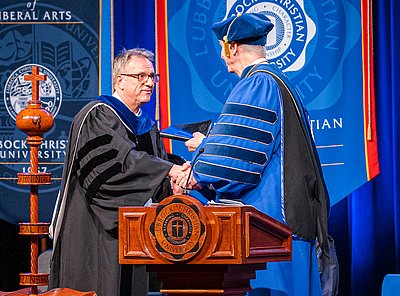 Dr. Russell Dabbs, LCU School of Business Chair and Professor of Economics, spoke at the graduate ceremony on Friday night. Dr. Dabbs graduated with a B.A. in economics from the University of Wisconsin-Milwaukee in 1986. He subsequently earned an M.S. in economics in 1989 from the University of North Texas and a Ph.D. in economics, with a specialization in macroeconomics/monetary theory, from the University of Tennessee, Knoxville in 1996.
During his two-decade career at LCU, Dabbs has taught several different courses and served as the Chair of the Department of Business Administration from 2001 until the formation of the School of Business in 2015, at which point he took on the role of the School's Chair for Academic Affairs. As Chair, he led the school's effort to obtain accreditation through the Accreditation Council for Business Schools and Programs (ACBSP), which was awarded in 2020.
---
Both commencement ceremonies were livestreamed and are available to view on LCU's YouTube channel.