LCU hosted its sixth annual Big Blue Christmas event on Tuesday night, welcoming hundreds of guests to campus to share in the holiday celebration.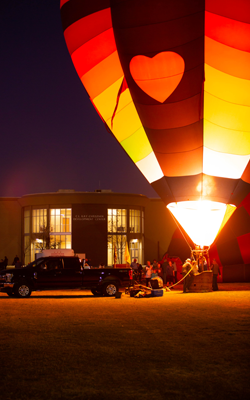 The event was themed around the classic Dr. Seuss character the Grinch, who was present and available for pictures with guests throughout the evening. Santa Clause also appeared for photo opportunities in the newly dedicated Christa Dobbs Center for Business. Other areas of campus were decorated as Whoville, Suessville, and the North Pole, each with crafts, snacks, games, and other activities.
Attractions also included two hot air balloons. Despite being unable to take off due to weather conditions, the balloons also offered guests an up-close look at the apparatus, compliments of the Southwest Balloon Club.
Throughout the evening, LCU musical ensembles performed a number of seasonal tunes and Christmas carols, including joint classics by the Praise Choir and Symphonic Band, "Sleigh Ride" and "Joy to the World." Other performing groups included the Jazz Band, Chamber Singers, Best Friends, and Forte.
The celebration concluded with the traditional "Lighting of the Chap" and many other buildings on the mall area. At the end of his brief welcome, President Tim Perrin invited guests to count down with him for the grand lighting.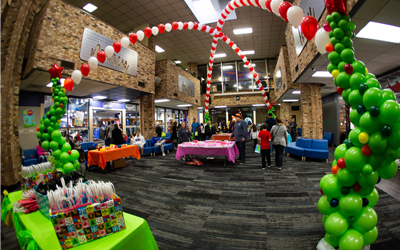 Big Blue Christmas was made possible with the help of many volunteers and workers, in conjunction with its generous sponsors: Lee Lewis Construction, Collier Construction, Betenbough Homes, and Bahama Bucks.