Dr. B. Wayne Hinds, founding faculty member who served Lubbock Christian University for more than 40 years, passed away Oct. 16, 2018.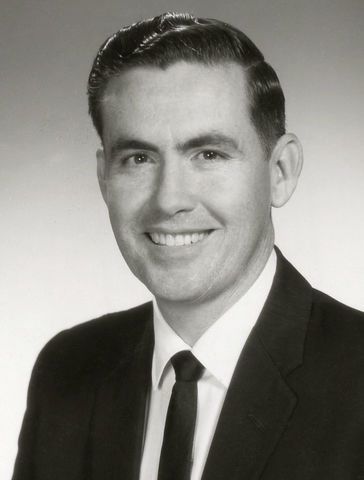 "We extend our love and sympathy to Yvonne and the Hinds family, and we remember Dr. Hinds and the profound impact he had on the university," said LCU President L. Timothy Perrin. "Dr. Wayne Hinds is an LCU legend. He caught the vision of Dr. Mattox at the college's founding, and he sacrificially invested his life in the college's growth and development. He was a great choral conductor, but also so much more than that. He changed lives and his influence will endure because of the thousands of students he taught and inspired."
Dr. Hinds joined the university in the role of music department chairman in 1957. He founded the A Capella Chorus in 1957 and directed the chorus for over forty years until he retired in 1998. He also founded the Royal Blue Band; Meistersingers Chorus, which he directed until 1960; and formed the Music Masters, which performed and produced Master Follies until that responsibility shifted to the Inter-Club Council.
"No one did more than Wayne Hinds, from our earliest days until his retirement, to shape the student experience of LCU," said Dr. Steven Lemley, fourth LCU president.
But Dr. Hinds's legacy extends beyond his influences in the music department and with performing groups. Together in 1957, he and his wife, Yvonne, composed the university alma mater – he wrote the music, and she wrote the lyrics.
"Each time we sing the alma mater, we are indebted to the continued influence they have on our university," said Lemley. "There is also a personal impact for many of us; fifty-three years after being a student in the A Cappella chorus, I can vividly remember his careful and precise direction – he led with his hands, his eyes, his heart. I suspect all of us who were members of his chorus are still comforted by those songs, their words and sounds, when they come back to mind in times of difficulty and anxiety. Wayne Hinds provided, not only a standard for excellence, but he also enriched our faith – and still does."
The Hinds spent hours in and out of the classroom during his 41 years of service to the university: preparing for concerts in daily rehearsals, showcasing students and choruses by traveling the United States, and orchestrating more than twenty-five choral mission trips abroad. He and Yvonne, known affectionately as "Mama Hinds," made a significant impact on the students and university to which they dedicated their lives.
"Dr. Hinds was highly instrumental in making sure music served at the core of the University identity," said Dr. Laurie Doyle, professor of fine arts. "His years of travel with the chorus recruited for and advertised the new college in a tremendous way. He worked with hundreds of students over the years and inspired their love of music, their dedication to the University, and their faithful belief in the power of Christian fellowship."
In 2017, the Hinds received the 60th Anniversary Enduring Legacy Award for leading by Christian example, an example that lives on at the university. The alma mater remains unchanged since its composition, still including the original lyrics about "modern pioneers," the university's original mascot. Additionally, many of the choral traditions created by Dr. Hinds continue in the musical programs led by Dr. Philip Camp, professor of music and director of choirs.
"Dr. Wayne Hinds was a tremendous inspiration to thousands of students and alumni during the early history of Lubbock Christian College and continued to inspire many beyond his retirement in 1997 through the Hallelujah Chorus and through the various alumni chorus gatherings and concerts," said Camp. "With Mama Hinds by his side throughout their experiences, they truly exemplified Christ in their marriage."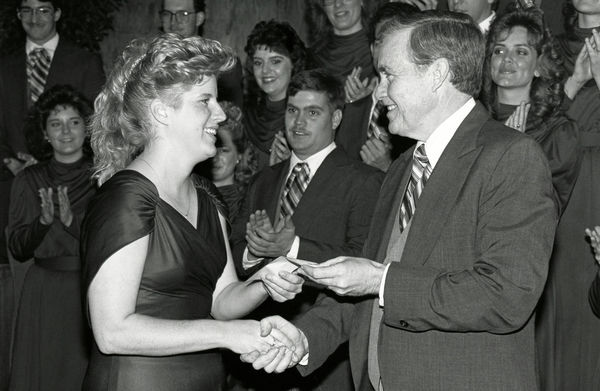 Camp co-directed the Meistersinger Chorus with Dr. Hinds in 1996-97, helping to fill the director vacancy created by the retirement of Charles Cox, Hinds's long-time friend and colleague. Having just started at LCU, Camp recalls that year as a time of mentorship where he witnessed first-hand Hinds's connection with the students and alumni at LCU.
"Thanks to Dr. Hinds's gentle guidance along the way during my early years that took place at the completion of his 40-year tenure, I was able to get a great start to my teaching experience at LCU, keeping many choral traditions that he established, and beginning some new traditions," said Camp. "I will always be grateful to Dr. Hinds for his example of faithfulness and for the encouragement that he gave to me through the years."
A service to celebrate the life and legacy of Dr. Hinds will be held Sunday, Oct. 21 at 2 p.m. in the McDonald Moody Auditorium on the LCU campus with a reception following in the Baker Conference Center. The service will be streamed for those who are unable to attend.
The Hinds family has requested that in lieu of flowers, donations be made to the Dr. B. Wayne Hinds Endowed Scholarship fund at LCU.
The LCU flag has been lowered to half-staff through Sunday at the university to honor this founding faculty member for his life of sacrificial service.
A dinner to celebrate the legacy of Wayne and Yvonne Hinds had already been planned for February 9, 2019, during LCU's Homecoming Weekend. At the dinner, the university will share additional information about plans to further honor Dr. Hinds.