Lubbock Christian University (LCU) Tennis, now in its second returning season, continues to build an impressive record of high-quality performance across the country in both men and women's play.
The program, which made its return to campus alongside the brand-new Penny Gullo Tennis Center, has been championed by Texas tennis legend Jerry Franklin ('63), who played for LCU's first organized tennis team during his time at what was then the Lubbock Christian College. He later became a storied coach for several schools in West Texas and was inducted in 1986 into the Texas Tennis Hall of Fame, having coached 13 state champion tennis players throughout his career. He also served as Chairman of the Hall of Fame Committee for over 20 years, cementing his legacy as a Texas tennis icon.
"Tennis has been number one in my life aside from my faith in the Lord, and I wanted to give back to Lubbock Christian University," he shared, remembering his own roots. "They hadn't had a program for over thirty years, and I knew they'd need some facilities—so I went to Raymond Richardson [LCU Vice President for University Advancement] and proposed it. He showed me four spreadsheets to show what it would take—facilities, operation costs, other funding—and he asked if I could help him fundraise. I knew I needed to give back, and this became my passion—the courts, the facilities, restarting the program, the scholarships—and so I started out fundraising, first with people I knew and then to people I didn't."
Jerry took the lead in making sure that the tennis program had everything it needed. He and Raymond Richardson worked with the Gullo family, who have been longtime generous friends of the University, to make the new LCU tennis center a reality, culminating in the facility opening in the spring of 2022. Coach Jason Speegle, a talented leader with a successful track record of title championship appearances at Southwestern College in Kansas, was hired to helm the program, and in the fall of 2022, the LCU Tennis program was reborn.
"The first team meeting that we had was like a goose-bump moment," shared Coach Speegle, "because so many people have been working to get to this moment. Those 22 young men and women were all there to play tennis and represent LCU, but they were also representing Jerry, representing the athletic department, representing the Gullos, and everyone that had come before them. We talked a lot about being pioneers and forging the path. Everything that we did last year as a team was going to make it a little easier for those who come behind us."
The Chap and Lady Chap Tennis teams certainly made an impact during their first season in Division II of the NCAA. Both teams had several big wins against nationally ranked opponents, and the women's team made it to the conference semi-finals, narrowly losing to a St. Mary's team that would continue deep into the national tournament. On the men's side, Martins Abamu won the ITA regional tournament in the fall, winning six straight matches to claim the top spot in a field of 64 players, and earning an invitation to the ITA Cup as one of only 16 NCAA Division II players who qualified—Abamu was ranked as high as number 12 in the nation. The men's team ended up fourth in the Lone Star Conference and made the NCAA Tournament in their first season.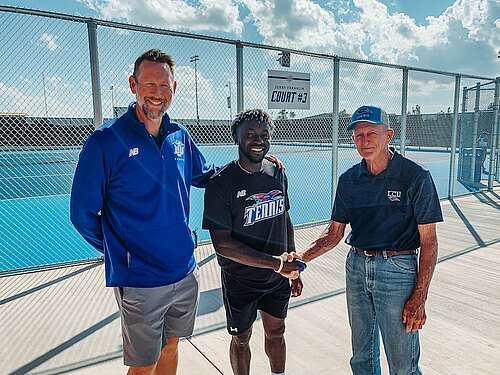 "It's been an amazing experience," Coach Speegle emphasized. "We had a lot of success. As a first-year program, we could have been completely blown out by everybody we played." The new program certainly avoided that pitfall, showing early on that they belong on the competitive end of the DII courts.
Jerry continues to rally for LCU tennis and is currently seeking to accumulate endowed funds for student athletic scholarships to help recruit the best players to the program. His enthusiasm for the program is contagious.
The Penny Gullo Tennis Center has a total of eight courts. The legends of tennis in the state of Texas are well represented at the Gullo Tennis Center: Bill Estes (Court #8), Fred, John, and Novice Kniffen (Court #6), Dalton Hill (Court #7), Carl Franklin (Court #4), and Jerry Franklin (Court #3). Also presented are generous benefactors who set up $100,000 endowments to permanently established scholarships for for LCU student athletes. Scholarships were established by Dalton Hill, Emilie Burrer Foster, Jerry Franklin, and several others. The goal is to have a one-million-dollar endowment for the tennis program in the very near future by establishing ten scholarship endowments of $100,000.
"I have six endowment funds underway—with funds that have already been given and pledged," Franklin explained, adding that he hopes to add several additional funds as well. "I've coached kids to state championships—that was great. But this has been so rewarding, to see this dream come alive—I hope we get the endowment funds to make sure our program is sustainable."
"What Jerry Franklin has done is amazing," Richardson added. "I look at the names and legends now associated with Lubbock Christian University tennis, and it looks like the Texas Tennis Hall of Fame list. To have endowments named after Emilie Burrer Foster, Dalton Hill, Jerry Franklin and courts named after the Kniffen family, Carl Franklin, and Bill Estes shows that LCU is serious about tennis, serious about sustaining this program well into the future, and serious about the quality of student athletes that will play for the Chapparals."
The LCU tennis program looks to continue making progress on permanent endowments to support scholarships for the student athletes to ensure the longevity and sustainability of the men's and women's tennis programs. For more information or to get involved contact Raymond Richardson, Vice President of University Advancement.