Dr. Jacqueline Townsend has been named the Director of Bands for Lubbock Christian University beginning in the fall of 2020.
Dr. Townsend joins the faculty at LCU after serving for two years at the University of Southern Maine. She earned her bachelor's and master's degrees in music education from Bowling Green State University (Bowling Green, Ohio) and her doctorate in wind conducting from the University of North Texas.
Originally from Columbus, Ohio, she has experience teaching instrumental music to students of all ages and has been published in The Instrumentalist and in the Teaching Music Through Performance in Band book series.
Dr. Laurie Doyle, chair of the department of communication and fine arts, said, "We are thrilled to have Dr. Townsend join our music faculty. She brings a wealth of experience and is a perfect fit for us. We look forward to her leading the instrumental program to great success in the coming semesters."
Dr. Townsend started her new position at the beginning of the fall semester during the novel coronavirus.
"The first few weeks of the school year at any institution are always chaotic—but add to the fact that they are at a brand-new school for me and are taking place in the middle of a pandemic has been a tremendous learning opportunity," she said.
In order to maintain social distancing and a safe environment for faculty and students, band classes have been reduced into small groups, to allow for social distancing.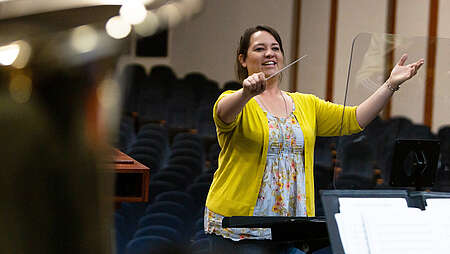 Dr. Townsend said, "In the LCU Symphonic Band, we are experimenting with an altered schedule to aid in social distancing, which allows for small groups to meet with me for two days a week. The small groups are great, because it has allowed me to get to know everyone better."
"Despite having to sit six feet apart during rehearsals, this structure is actually very traditional for the wind band," she added. "Most people don't know that this is how bands got started—playing in small groups for ceremonial events, even for the entertainment of royalty during the Renaissance. So, I guess you could say that we are channeling our wind band forefathers—and are very much looking forward to putting those skills on display in a few short weeks!"
LCU has three instrumental ensembles—the Big Blue Basketball Band, jazz ensemble, and the symphonic band—that are open to all majors, and each offer scholarships opportunities to participating students. The instrumental program, after a decade-long hiatus, was revived in 2009, and has grown in both size and talent since its resurgence.
"I am absolutely thrilled and humbled to have joined the amazing faculty here at LCU and am so excited to be back in Texas," Dr. Townsend said. "The students here are such a joy to work with, bringing a good work ethic coupled with kindness, and a great sense of humor. They've also been incredibly flexible and understanding of the new precautions we have had to take under the circumstance."