Memorial Day is a United States holiday on the last Monday of May that honors men and women who died while serving in the U.S. military. It is a day intended to remember the sacrifice of so many that secured the freedoms that are enjoyed by American citizens, and an opportunity that allows those who enjoy those numerous freedoms to say thank you.
It is also a time that we can offer our thanks to those who are still living who have served and who are currently serving in the military. While giving one's life in service to the country is the ultimate sacrifice, all those who have served and are serving have sacrificed time with family, years of putting career paths on hold, and many other opportunities in the name of something bigger.
In the early 2010s, a group of young veterans began their collegiate careers at LCU at roughly the same time. Though they found a welcoming atmosphere, none of the numerous student groups available for LCU students felt quite the right fit. Nick Simmons, one of those veterans, had an idea of forming their own group, somewhere they could feel at home. With support from several mentors on campus, he took that vision and created the Veterans of Faith student group in November of 2014.
The group of staff and faculty mentors who work with the Veterans of Faith view this service as an opportunity to give back in a very small way to those who have served and sacrificed.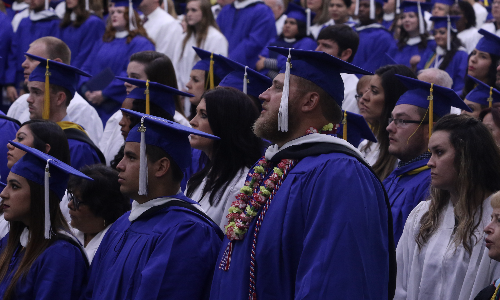 "We're one of the few schools who has an awesome student veteran part of campus, especially in the private school sector," said Simmons, who served as the organization's president from its founding until his graduation in December of 2016.
With Simmons' early leadership, the Veterans of Faith group has sponsored 5k Ruck-Sack Runs and have been key in delivering LCU flags though out the Lubbock community on special occasions, among other service initiatives. In fact, the Veterans of Faith group received the Student Service Group award from the Volunteer Center of Lubbock in 2018.
As Simmons looked back on his time at LCU, he recalled fondly his education and his experiences as a student, noting that LCU is a very special place, but particularly for veterans.
He went on to explain that his academic training was exactly what he had hoped to receive. "I got a great education," he said. "LCU puts out quality graduates, and there are so many great degree programs. In fact, my wife was highly qualified for the job she took, maybe a little too qualified because of all the time she spent in the lab. She has better lab skills than people who have been at the same lab for several years."
The Veterans of Faith group continues its successful trajectory even after Simmons' graduation, and the faculty and staff who mentor the group feel that their service is a small price to pay for those young men and women who have sacrificed so much.
As we celebrate Memorial Day, LCU salutes the men and women who have given their lives. We are forever indebted to them and their families. We also salute the men and women now living who served, and who are currently serving, and we ask God's blessings on each of them and their families.