Lubbock Christian University announced today that exciting renovations are underway for the Rhodes Perrin Recreation Center. Handball and racquetball courts are being added to the broad list of activities available to students in the Rec Center, made possible by a generous gift from the Randolph Foundation for Higher Education, Inc.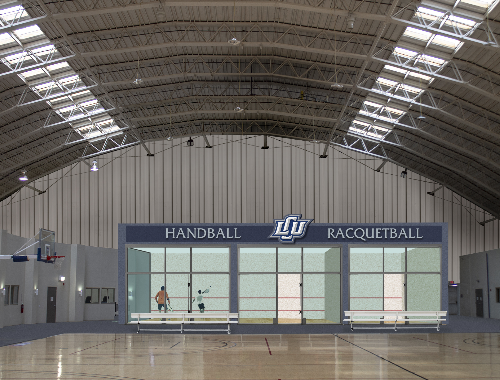 Three regulation handball and racquetball courts with glass fronts will be built in the south end of the 94,000 square-foot Rec Center. In order to make room for the new courts, the existing 40-foot rock-climbing wall has been moved to the north end of the facility.
Other improvements to the complex will include the installation of new competitive-grade hardwood floors and an extension in length of the four existing basketball courts making them all full competition-sized courts. In addition, the indoor walking track, which is approximately 1/8 mile in length, will be enhanced with a new surface.
"This is an exciting addition and upgrade to the Rhodes Perrin Recreation Center," said Randal Dement, Vice President for Student Affairs. "We are grateful to the Randolph Foundation for Higher Education for their generous donation to a space that represents student community life at LCU. The history of the Rec Center symbolizes LCU's strong sense of community, pioneering spirit, and God's blessing of fellowship."
Formerly known on the LCU campus as the Fieldhouse, the facility was moved from Las Alamos, NM in 1961 and was originally home to LCU collegiate athletics for many years. It is now a climate-controlled space devoted to student activities including intramural court sports of basketball, volleyball, futsal, badminton and pickleball. The Ramona Perrin Fitness Center, group fitness room, and rock-climbing wall are well-utilized facilities within the Rec Center.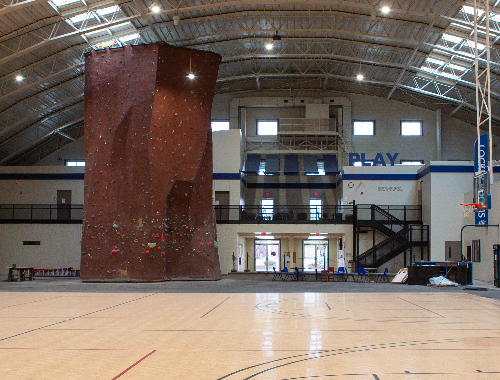 The Rec Center is usually a very busy place at this point in the spring semester. But the pandemic has students finishing their semester through distance learning because of the stay-at-home orders, and the Rec Center is very quiet these days. The renovation began with the moving of the climbing wall and will continue through the spring and summer in anticipation of being ready for the fall 2020 semester.
"We can't wait for the Rec Center to once again be filled with the hustle and bustle of student activity," said LCU President, Dr. Scott McDowell. "The addition of the handball courts and the floor and track enhancements will be enthusiastically embraced by our students. I am thankful the Randolph Foundation for Higher Education had the vision to see what a significant, positive impact this will make on student life here at LCU—we are immensely thankful for their generosity."
"Over the last five years, LCU has experienced significant growth and expansion in infrastructure," stated Raymond Richardson, Vice President for Advancement. "The Randolph Foundation for Higher Education, Inc. has made an incredible investment that will enhance the health, education, and recreation life of our LCU community."