Students from every discipline gave presentations and displayed posters across campus during the 2019 Scholars Colloquium, sharing their research on a myriad of subjects. LCU faculty members moderated various breakout sessions, and students from every discipline across the campus participated in oral and poster presentations.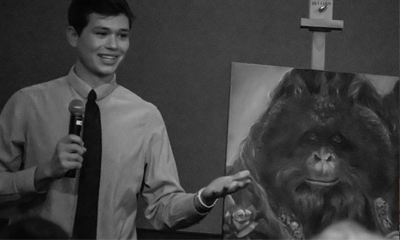 "Our students generated a number of interesting and compelling projects, the complexity and diversity of which are shown in the following list of award winners and finalists for our Outstanding Undergraduate Research Awards: Andrew Setliff and Isabella Sifuentes (Natural Sciences) 'Monitoring Wastewater Derived Antibiotic Resistance in a Naïve Ecosystem' and Kathryn Pullano (Education) 'Self-Selected Reading Practices: Achievement and Attitude Impacts on Middle and Secondary Students,'" explained Dr. Kenneth Hawley, Professor of English and Director of The Rhodes Institute for Undergraduate Research.
Other conference awards included the Outstanding Poster Presentation Award for Connor Simmons (Natural Sciences) 'Isolation of Escherichia coli from the Digestive Tract of Canada Geese' and the Outstanding Faculty Mentor Award for Librarian Barbara Slate, who has contributed significant service to the Advisory Council for the Rhodes Family Institute for Undergraduate Research and to the Scholars Colloquium Committee.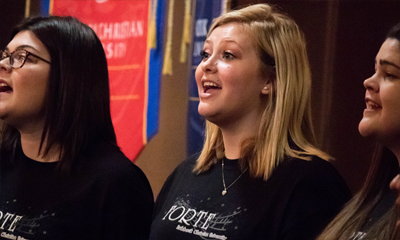 Alongside research presentations, the conference schedule also included a number of creative arts presentations. "In addition to our featured Juried Exhibition for our Art students in the Art Studio Gallery, as well as an Art Exhibit in the Pioneer Gallery of the University Library that highlighted the work of Art instructor Courtney Tyler," continued Hawley, "we also heard performances from our music groups in the Fine Arts. Dr. Laurie Doyle organized a performance by the vocal ensemble Forte, and Dr. Philip Camp's Praise Choir performed two songs at the opening of our Thursday evening plenary session."
The student plenary also featured a reading by creative writing students Katrina Brown and Caleb Thompson, authors from the 2019 issue of LCU's student art and literary journal, The Chap Book. Their presentation was followed by remarks from student artists Zachary Long and Madison Sanders, who discussed their paintings on display.
The Colloquium also features an invited guest each year, and the 2019 speaker was Dr. Scott Moore, Associate Professor of Philosophy and Great Texts at Baylor University, who founded Baylor's Great Texts program in 2002 and directed that initiative until 2011.
"Dr. Moore has published recently on The Limits of Liberal Democracy: Politics and Religion at the End of Modernity, Finding a Common Thread: Reading Great Texts from Homer to O'Connor, 'The Consolations of Fiction: J.R.R. Tolkien and Iris Murdoch,' and 'Christian Intellectuals in the Postmodern Turn,'" explained Hawley. "He presented Thursday on 'Success, Wealth, and the Imagination: Reading the Great Texts of Business' and again Friday morning on 'Work, Leisure, Wonder, and Gratitude: Farming with the Philosophers.' Dr. Moore also shared personal reflections on his life as a scholar, a professor, and a father during a Faculty Faith & Learning luncheon at the conclusion of the Scholars Colloquium."
Visit our website to learn more about academic opportunities at LCU, or learn more about the Rhodes Institute for Undergraduate Research.