"With the help of my LCU family I can honestly say that my life has been changed forever." Powerful words from Rita Reyes, a first-generation student who transferred to LCU after receiving her associate degree from South Plains College.
Reyes was born in Rosarito, Baja California, Mexico, but she was raised in Lubbock for most of her life. During her time in high school, she found that her status as an immigrant would make attending college more difficult than for many of her classmates. "I knew that because of my legal status at the time I wouldn't have the same opportunities as everyone else," she explained. "I couldn't apply for scholarships, FAFSA, or TASFA. I had to get creative and use my strengths to get me where I needed to be."
Still, for most of her life Reyes felt a calling—one rooted in her faith and story. "As a little girl, I always wanted to be a lawyer. I thought lawyers were so cool, but most importantly, I wanted to give a voice to those who felt they had never been heard. I had always known I wanted to be an advocate for the people who were left on sidelines and often overlooked." But to fulfill this path, she knew she would need to pursue higher education.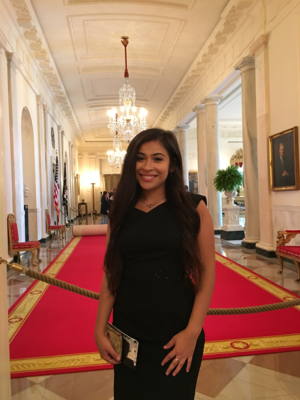 Reyes began her studies at South Plains College, a 2-year institution in Levelland, Texas, with whom LCU has a strong relationship and numerous articulation agreements that allow an SPC student to easily transfer. After she received her associate degree, Reyes continued her education at LCU.
"At first, I wasn't planning to become a part of the Chap family," she recalled. "I wanted to go to class and leave when it was over." But at the transfer student dinner, former President Perrin told the group that, "You will get what you put into it. I advise that you take advantage of all LCU has to offer you, because it could change your life forever."
"He was right," said Reyes. "I decided to reach out to different organizations on campus. Not only did I hear back, but everyone was eager to welcome me into the family." By everyone, Reyes literally meant everyone—she now serves on LCU Senate Student Concerns committee, on Student Honors Advisory Council (SHAC) as an Elections Committee chairwoman, and as a member of the Kappa Phi Kappa social club.
Reyes, now a senior Humanities major, also shared her gratitude at the mentors from all corners of the university who have made LCU truly her home. "Former President Tim Perrin was a big part in helping me find my professional identity. We bonded over our mutual interest in the law and government, and he helped me put into words what exactly I wanted to do with my life." Dr. Stacy Patty, Dean of the Honors College, has also been influential, she explained. "He has gone above and beyond to help me get to where I need to be in my career. He has truly moved mountains to offer me opportunities to live out my dreams."
She also recalled how Dr. Kenneth Hawley has had a large part in helping her grow academically. "He has helped me develop my writing, critical thinking, and communication skills."
The final person whom Reyes mentioned by name was one whom she's perhaps known from LCU the longest—the Director of Transfer Recruiting. "The list could go on," she said, "but I have to mention Jody Reding. She was the first on the LCU campus to believe in me and my abilities. She has been my biggest cheerleader throughout my time at LCU."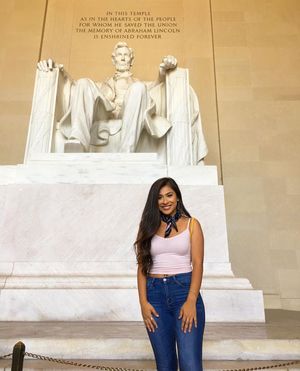 Reyes shared that her time here has been full of opportunities. "I have participated at LCU Scholars Colloquium and the National Conference of Undergraduate Research presenting the research I have conducted under the guidance of my advisor, Dr. Kenneth Hawley." In fact, it was through her undergraduate research opportunities and her involvement with the LCU Honors College that Reyes was able to pursue an internship in Washington, D.C., where she spent her fall semester working in Public Policy in the nation's capital.
"My time in Washington D.C. has been the greatest professional experience of my life," she explained. "I love the city and the diversity—I have met people from all over the world. It has also opened my eyes in identifying more ways I can advocate for people as a career. Law school is not the only path I can take—but an option."
Through her time in the LCU Washington program, Reyes discovered the next steps in her own path—ones that might have been drastically different otherwise. "The best part is that I have developed relationships with people who have the power to influence the law," she shared. "I now have mentors who are doing the jobs that I want to someday do. Now, because of this experience, I know I want to move to Washington D.C. to start my career."
Choosing LCU opened up countless opportunities for Reyes—and as an immigrant and the first in her family to attend college, Reyes understands the difference it has made in her life. "From the first day that I stepped on campus, I felt like I was home," she shared. "I mean quite literally—I'm always on campus for classes, meetings, or studying at the library. The LCU family truly welcomed me with open arms."
---
Learn more about the LCU Washington program or the LCU Honors College, or check out unique scholarship opportunities for SPC students.